How to Succeed at Work after an Injury or Disability With a Reasonable Accommodation Request
Injured Workers Have a Right to a Reasonable Accommodation From West Virginia Employers Under the ADA
West Virginia has the highest disability rate in the nation. With 19% disabled, that means approximately 347,260 West Virginians have a health condition, injury, or disability that prevents them from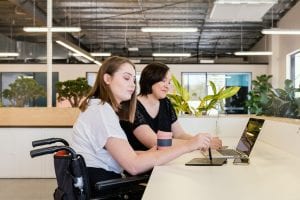 working.
But, it doesn't have to be this way. The Office of Disability Employment Policy says many can return to work when given even simple modifications at their job site. 
Fortunately, if you are a qualified individual, the Americans with Disabilities Act (ADA) may require your employer to provide you with reasonable accommodations that allow you to perform your tasks.  A few examples of reasonable accommodations include the following:
an employer making existing facilities accessible

job restructuring

part-time or modified work schedules

acquiring or modifying equipment

changing tests, training materials, or policies 
So, how do you approach the touchy subject of asking your employer for something that could cost them money?
Approaching an employer can be intimidating. Your boss may be culturally progressive, ethical, and generous, or maybe quite the opposite. Regardless, you can aim to reach a win-win solution.  The information below can help you get clear and confident when making your request and can connect you with organizations that can help you prepare your reasonable accommodation request.
#1 Understand your rights under the Americans with Disabilities Act (ADA)
The ADA is a civil rights law that prohibits discrimination based on disability. It was modeled after the Civil Rights Act of 1964 and guarantees that people with disabilities have the same opportunities as everyone else.  
The ADA defines a disability as a physical or mental impairment that substantially limits one or more major life activities. If you have a history or record of such an impairment or are perceived by others as having such an impairment, you are likely protected by the Americans with Disabilities Act. 
If you satisfy the skill, experience, and other job-related requirements of the position and can perform the essential job functions of the position, with or without reasonable accommodation, you are "qualified" and protected under Title I of the ADA. What's more, the ADA, Title I , requires employers to provide you a "reasonable accommodation" so you can successfully do your job.
#2 Get free help on workplace accommodations from the Job Accommodation Network (JAN)
The Job Accommodation Network (JAN), is an ODEP-funded technical assistance center. JAN will you provide you free, expert, and confidential guidance on workplace accommodations. See below for more information about JAN and other resources.
#3 Know "reasonable accommodation" means
The Office of Disability Employment Policy states a reasonable accommodation is a modification to enable an employee to do the job despite having a disability. It can be an adjustment to the work environment or a change in the way things are usually done during the hiring process. 
Modifications are not and should not be viewed as "special treatment". All employees benefit from facility changes such as accessible restrooms, ramps, and ergonomic workstations. Other accommodations include job restructuring, working from home, modified work schedules, and acquiring modified equipment. 
If you have a disability, the Job Accommodation Network (JAN) can help. JAN is the leading source of guidance on workplace accommodations and disability employment issues. And, it's free! Funded by the U.S. Department of Labor, Office of Disability Employment Policy (ODEP), it is also a collaborative effort of West Virginia University . 
JAN found that, surprisingly, 57% of work accommodations actually cost absolutely nothing to the employer, while the rest typically cost on average only $500. Additionally, employers can receive tax incentives to help cover larger costs. Also, when considering how much it costs to hire someone to replace a person with a disability, employers can actually save money in the long term by providing reasonable accommodations.
Keep in mind, businesses with fewer than 15 employees are not covered by the ADA. And, a covered employer is not responsible for accommodations that would cause an "undue hardship" to their business. 
#4 Understand what's an 'undue hardship'
Undue hardship means to cause significant difficulty or expense to your employer. To prove your request presents undue hardship, your employer would have to show the accommodation would cause more than just financial difficulty.  They would have to show it is unduly extensive, substantial, or disruptive to the nature of the business by fundamentally altering operations. 
Generally, it is not easy to prove all of these points. The U.S. Equal Employment Opportunity Commission  (EEOC) is the federal agency responsible for enforcing the ADA. However, the courts may also consider the employer's tax credits, deductions and even your willingness to contribute to covering some of the costs.
#5  Do your research & show up with answers
Before approaching your employer, think carefully about the job position and think creatively about modifications. Consider the questions and concerns your boss will have about any disruption and expense. Preparing in this way you walk through all the possibilities and scenarios.  The extra effort will give you calm confidence during negotiations. Again, however, you don't have to do this alone — JAN can help you! The points below can also help get you started in preparing for your request:
List out the essential functions to the job position.

Identify how your condition affects your job-related tasks.

Brainstorm how an accommodation or modification would allow you to be more successful at work.

Consult the

JAN

website to see potential accommodations and how each would be effective for your job role.

Be informed about all aspects of your desired accommodation, especially the cost and availability.
#6 Follow the Steps
If you have a disability, it is your responsibility to let your employer know that an accommodation is needed. Here are some suggestions on how to approach your employer:
Choose how you'll make your request
The ADA doesn't require an official form. Some employers may have a form they'd like you to use, but you can make your initial request verbally, by email, or in a letter. A written request, however, ensures the process is well documented. JAN provides a sample accommodation request letter. 
You may need to send copies of your request to more than one person. The type of accommodation could affect who needs the request. For example, if you're asking for a schedule accommodation, the company might direct you to Human Resources. 
Make it clear you're requesting under the ADA & offer ideas
Your employer needs to understand that your request is due to a medical condition and is under the ADA. Use your research from the process above.  Suggest the accommodation you believe you need.
Follow up if there are delays
The law doesn't require that all requests be granted. If your employer hasn't responded, reach back and inquire why. If your request is being ignored or was wrongfully denied, you may consider filing a charge with the EEOC  for violations of federal or state employment discremination laws. The help of a qualified employment attorney might be useful at this point. 
Monitor your accommodation 
Once your have an accommodation, you will need to let your employer know if something needs to be changed or adjusted. Trying anything new can require some ironing out of wrinkles.
What about coworker morale?
 Are you worried your accommodation will cause jealousy or resentment among coworkers?  Many employers also fear that granting a request will only open a can of worms with everyone wanting the same.  Well, the truth is, that could be the case. 
Say, for example, you now have a modified, flexible schedule. It's possible that others will want one too. However, it is the employer's duty to manage challenges like this while still providing you a reasonable accommodation. The JAN site and helpline mentioned above may also be able to help with these issues if they arise.
Real-Life example of how a reasonable accommodation helped an injured employee continue being a productive worker
An employee, we'll call Bill, developed a knee injury. Climbing stairs and walking far distances was almost impossible and meeting clients across the extensive property was a struggle. Worse still, the only accessible restroom in the building he worked was up a flight of steps on the 2nd floor. The corporation had one ground-level facility, but it was in a building across a busy street, hundreds of yards away.
Fortunately, Bill realized he had the right to request a reasonable accommodation from his employer, and he thought of several options: 1) ask his employer to build a bathroom on the first floor of the building he worked in or 2) ask his employer to allow him to use a golf cart at work so he could travel across the street to use the bathroom and so he could better perform other aspects of his work. Bill decided to ask his employer for option number 2 since it would be less expensive for his employer. In fact, Bill offered to buy a used golf cart, and the employer agreed to his request.
Bill was able to achieve a win-win result with the use of a reasonable accommodation request, he was able to work for years longer. This helped Bill provide for his family and saved his employer tens of thousands of dollars in hiring and training costs it would have incurred if it had to replace Bill.
In the example above, Bill could have asked for several different reasonable accommodations, but he decided on the one that he thought would work best for his situation. The main takeaway here is that there's no limit to what's an acceptable reasonable accommodation. Being creative and consulting with JAN should be able to help you identify the best option or options to present to your employer.
How to negotiate
As mentioned above, JAN can help you every step of the way in making a reasonable accommodation. Here's also a helpful video on how to negotiate. https://www.youtube.com/watch?v=WNF-yVxTR4I 
Get a Free Consultation From An Experienced West Virginia Injury Lawyer
If your disability was caused by a dangerous work condition, car accident, fall, or negligence, you might also have a personal injury claim above and beyond your rights to a reasonable accommodation. If so, we invite you to call us for a free consultation. Our toll-free number is 1-877-943-9378 (WEST). And at West Law Firm, there's never a fee unless you win.
West Law Firm is located in Charleston, WV, and we serve people who have been wrongfully injured anywhere in West Virginia.
Brooks West is a personal injury lawyer, founder, and President of West Law Firm. He has been helping those wrongfully injured in West Virginia for almost two decades. The results and service he provides his clients have earned him membership in the Multi-Million Dollar Advocates Forum and the AV Preeminent Rating from Martindale-Hubbell. Brooks is most proud of the many 5-star reviews he has received from satisfied clients.