How to Avoid Auto Accidents and Injuries This Fourth of July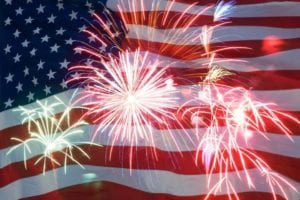 If you're like most Americans, then you may be thinking of taking a vacation this Fourth of July. Independence Day is one of the busiest days for travel in America. If you're planning a trip, here are some tips you can follow to avoid joining the ranks of the estimated (by the National Safety Council) Fourth of July-related traffic fatalities (173 ) and non-fatal injuries (17,300 ) this year:
Drive Safely and Avoid Aggressive Driving—Temperatures and tempers are high on the road in the summer:
Avoid talking or texting on your cellphone while driving. Using your cellphone while driving is illegal in most states—texting while driving becomes a primary offense in West Virginia this July 1st. To avoid temptation, mute your cellphone and keep it out of sight. If you must use your cellphone, pull over safely and park your car first.
Wear a safety belt while driving. Make sure everybody else in your car is wearing his or her safety belt before you drive—including children (who should be seated at the back strapped to appropriate child-safety/booster seats).
If you're the one driving, don't drink. If your driver has already had a few drinks, don't get in the car.
Don't provoke other drivers and strive to be patient with drivers who make mistakes or are rude. For instance, avoid tailgating or flashing your lights at other drivers. Strive to avoid distracting driving, and be especially careful if you're traveling in the"Road Rage Capitals"(New York, Dallas/Fort Worth, Detroit, Atlanta and Minneapolis/St. Paul) during the holidays. You might also want to avoid Miami, Phoenix, L.A. and Boston for that matter.
Don't Play with Fireworks or follow these simple steps if you do:
According to the National Fire Protection Association, there were 8,600 injuries involving fireworks in 2010. Just watch the fireworks if you can, and leave it to professionals. If you must light fireworks, here are safety tips for you:
Forbid young children from playing with fireworks. Closely supervise older children if they're the ones lighting fireworks.
Light fireworks away from fire risks—houses, flammable materials, and onlookers. Don't light your fireworks all at the same time.
Don't aim your fireworks at anyone and never put any part of your body in a firework's way.
Keep a fire extinguisher or a bucket of water ready to douse duds or fire. Don't try to re-light or handle dud fireworks with your hands.
Don't use fireworks in wildfire prone areas—especially in the summer.
Be Careful When Swimming
3,600 people drowned in the U.S. two years ago. Here are some tips to avoid such a tragedy:
Even a bucket of water can drown a child. Closely watch your children at all times when at the beach, near a river or pool. Don't let them swim alone and in risky areas; and never without reliable personal flotation devices.
If you must swim, don't drink. CDC data on drowning deaths for adolescents and adults show almost three-fourths died with alcohol in their blood. Alcohol is also involved in almost a quarter of drowning cases (treated by Emergency Departments) and about one in every five boating deaths reported.
Feel the heat – but don't get too much of a good thing. Summer may be a good time for celebrating but too much heat can be deadly, especially to children and old people.
Children and pets can be trapped in a vehicle, so don't leave them unattended in a car. Ditto for the elderly. They might suffer deadly heatstroke and heat exhaustion.
If someone is suffering from overheating, move him or her to the shade. Call for emergency assistance if needed.
Here at West Law Offices, we wish you all a happy and safe Fourth of July Holiday!
Brooks West is a personal injury lawyer with almost two decades of experience and the founder and President of West Law Firm. Brooks is a member of the Multi-Million Dollar Advocates Forum, which represents one of the most prestigious groups of injury lawyers in the United States — fewer than 1% of U.S. attorneys are members. Brooks has also been awarded the AV Preeminent Rating from Martindale-Hubbell. Above all, Brooks' mission is to provide clients with life-changing results.