House Bill 2011: Giving West Virginia Employers the Right to Kill
Imagine a world where corporations knowingly violate safety rules and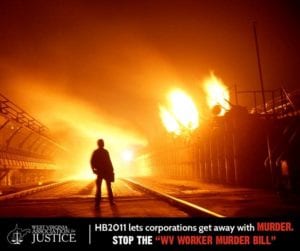 regulations, which kills or seriously injures their workers, and in this world those dead workers' families, who now have no breadwinners, no fathers (or mothers), are told by this world's government:
"You have no right to ask that these corporations be held accountable for the deaths and serious injuries of your kin. In our world, employers are immune from accountability and get free passes to intentionally break safety rules and regulations, even when doing so kills or maims their employees. We are sorry for your loss, but our courts and halls of justice are closed to you," says this government.
Does this sound like a scary world, the kind of world you want to live in? Well, if the West Virginia legislature is successful in passing HB 2011, this world will become a reality in West Virginia.  According to the legislature's own House Judiciary Committee Counsel, that under HB 2011 it would be more difficult to hold employer's financially accountable for knowingly violating safety rules and regulations that cause injuries or deaths to their workers than it would be to prove first degree murder.  If this is not the world you want to live in, please contact your state senator, your local delegate and let your voice be heard.
"In a state where thousands have been injured and killed on the job, it is outrageous that the West Virginia Legislature would even consider a bill that provides immunity to companies who risk the lives of their workers.  As bad as that is, it is inconceivable that this legislature would back a bill that lets a corporation get away with murder because that's what this bill is going to do," said Anthony Majestro, president of the West Virginia Association for Justice.
Contact Your Legislators
Your voice matters — this bill is still being debated by the West Virginia legislature and they are listening to voices like yours.
If you do not want to live in a world where employers get a free pass for violating safety rules and regulations that kill people, please call or email your legislators and tell them to vote no on SB 11/HB 2011. Letting them know that you don't think the West Virginia Legislature should be in the business of giving immunity to employers who knowingly violate safety laws, rules and regulations and risk the lives and safety of their workers will make a difference in this fight to save and protect the lives of West Virginia workers.
The links below will take you to a list of the names, email addresses and telephone numbers of both West Virginia senators and delegates, making it easy to contact them.  Calling is great too if you have the time.  If not, you could create one email, then send it to multiple senators and delegates.
Click Here to Find Your West Virginia Senators
Click Here to Find Your WV Delegates
Tips for Emailing Your Legislators
Be Personal – Legislators want to hear your story in your own words. Explain how the issue affects you and your family and what your personal concerns are.
Let Them Know You Are a Constituent – It's important that legislators know that you live and vote in their district. Be sure to tell them that you are a constituent. Also include your name, home address and phone number in your email.
Be Brief – You should focus on just this issue in the email—discuss only SB 11/HB 2011. Be sure to tell your legislator why you are emailing in your opening sentence. Include why you are opposed to the bill.
Tell the Legislator What Action You Want – In both your subject line and the body of the email, tell legislators what you want them to do. In this case, "Vote No on SB 11/HB 2011."
Be Polite – Being nice goes a long way in influencing legislators. It's important to be polite and not berate or argue with legislators, even if their position is opposite of yours. Explain why you believe they should vote against SB 11/HB 2011 and ask them to do so. Be sure to thank the legislator for taking the time to read your email.
More on HB 2011 Employer's right to kill bill and existing West Virginia work injury law
The House Judiciary counsel admitted Monday that the draft legislation is so outrageous that the burden of proof for one of these claims is higher than for first degree murder.
"Our entire justice system is based on personal responsibility.  If you murder someone with a gun, you get life in jail.  If an employer knowingly violates the law and 10 workers are killed, that person should be held accountable too, but under this bill, the company and its leaders get off and the families are left with nothing.  It's wrong.  No worker will be safe and no company will held accountable."
"Now we know what was behind the millions of dollars corporate special interests funneled into this state to buy themselves our state legislature–a get out of jail free card and a bump in corporate profits when they don't have to compensate the West Virginians who've been hurt or the families of those they've killed," says Majestro.
Under current West Virginia law, all employers have a responsibility to ensure that their facilities and work sites meet written federal and state safety standards as well as written standards for that particular industry.  A worker who is injured or killed on the job as the result of being exposed to known unsafe working conditions can file a deliberate intent/exposure claim and seek to hold employers who violate safety rules and regulations accountable.  However, employers are strongly protected and favored by the existing statute.
Currently, employers are completely shielded from liability, even in cases of gross neglect, except through a deliberate intent claim that must meet a strict five-part test. If legislators successfully strip workers of this remaining opportunity to hold employers accountable for catastrophes like Sago and the Upper Big Branch disaster, more workers are almost certain to get seriously injured or killed. The five-part test that injured workers and/or their remaining family must now prove to recover their losses when they are injured or killed because of their employers is as follows:
Five Part Test that Currently Protects Employers
A specific, unsafe working condition exists which presents risk of serious injury or death;
The specific, unsafe working condition is a violation or contradictory to federal, state or written industry safe workplace rules and regulations;
The employer through its management knows the unsafe working condition exists and the risks that it presents;
The employer nevertheless exposes the employee to the unsafe working condition; and
The employee is injured or killed.
Under existing law, if any one of these elements is found not to exist, the injured worker or the dead worker's family has no claim and their case fails.  Therefore, this existing law severely limits workers' rights, gives strong protection to employers, and thus provides an attractive legal environment for new businesses to come to West Virginia.
However, the new law many conservative legislators are proposing – HB 2011 – would chip away at the little bit of rights injured workers have left to hold employers accountable when they knowingly break safety rules and regulations that injure or kill West Virginia workers.  Killing West Virginians is not a good business incentive.
Get a Free Case Evaluation with an Experienced West Virginia Work Injury Lawyer
If you or a loved one has been injured or killed at work, we invite you to call us for a free case evaluation.   As stated above, under existing law, employers can still be held accountable for their actions in a limited number of circumstances. It's best to speak with an experienced work injury attorney – like us at West Law Firm – to protect your rights and identify your options.
Brooks West is a West Virginia personal injury lawyer who helps people who have been injured by negligence or wrongful conduct. He is the President and founder of West Law Firm and has been an attorney since 2005. Brooks is a Multi-Million Dollar Advocates Forum member and has been awarded the AV Preeminent Rating from Martindale-Hubbell.