Stop Driving These Hondas Now Say Regulators: Takata Airbag Recall Update
Federal safety regulators warn owners of more than 300,000 Hondas and Acuras that they should not drive their cars until their Takata airbags are replaced.
The National Highway Traffic Safety Administration said new tests show these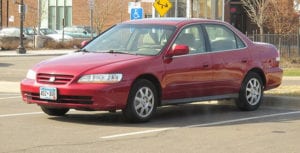 airbags have a much higher risk of exploding and killing a driver or passenger than previously thought. These airbags have a 50% chance of exploding when they are deployed in an accident, according to the agency. Other Takata airbags have less than 1% chance of exploding.
The risk posed by these airbags is grave according to the agency. There have been 10 U.S. deaths tied to exploding Takata airbags. Eight of them were in cars that had this specific airbag.
The models identified by NHTSA include: 2001-2002 Honda Civic, 2001-2002 Honda Accord, 2002-2003 Acura TL, 2002 Honda CR-V, 2002 Honda Odyssey, 2003 Acura CL, 2003 Honda Pilot.
According to U.S. Senator Bill Nelson,"These vehicles are deathtraps, and Takata and Honda have understated the risks for far too long," he said in a statement. "Merely telling people to come to dealers is not enough – they need to go out and find these vehicles and get them off the road."
Below is the article
 where we first discussed this 
problem in 2014
2014: Everything You Need to Know About Takata's Air-Bag Recall
EMTs thought they were responding to a typical car accident in Alhambra, California. Once they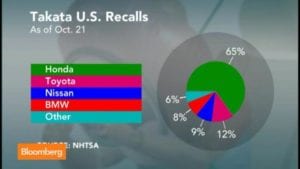 reached the vehicles, however, the EMTs discovered that the driver had been killed by what appeared to be gun shot or stab wounds. The autopsy revealed that the driver, Hai Ming Xu, was indeed shot, but by shrapnel from her exploding Takata airbag. The Takata airbag inflated so rapidly and forcefully that it launched lethal shrapnel into Xu.
Unfortunately, this was not an isolated event.  Ashley Parkham in Midwest City, Oklahoma, Hien Thi Tran in Orlando, Florida, and Gurjit Rathore in Richmond, Virginia, also were killed by exploding air bags. A hundred more people were seriously injured by exploding Takata airbags.
What automobiles are on the Takata recall list?

About 7.8 million vehicles, made by 10 different automakers, have been recalled to replace frontal air bags on the driver's side or passenger's side, or both. The air bags, made by Takata, were installed in cars from model year 2002 through 2008. Some of those air bags could deploy explosively, injuring or even killing car occupants.
Check if your car, truck or SUV is on the recall list
Because so many makes and models of vehicles have the defective Takata airbags, it's impossible to list them all here.  To check if your vehicle is affected by the recall, take the following steps:
From the outside of your car, look at the lower driver-side corner of the windshield.
Find the VIN number there and write it down.
Select your car's manufacturer on the NHTSA's website here.
Enter the VIN into the box.
Or You can call the NHTSA's hotline : 1-888-327-4236.
Supply Problems
Unfortunately, due to the large number of the vehicles recalled, car manufacturers cannot supply parts to all the dealerships right away. Those in the warmer climates will get parts first. Some manufacturers are finding creative ways to solve the problem — but those solutions could be worse than the problem itself. For example, Toyota plans to just disable all the potentially defective airbags without replacing them (once it runs out of replacements).
Considering that the number of deaths and injuries from exploding airbags is much lower than the number of lives saved by airbags, Toyota's plan is questionable. In contrast to Toyota, GM will just give car owners loaner cars once it runs out of replacement airbags.
While waiting for the manufacturers to fix all the cars, it's important that you take all the precautions you can for the safety of yourself and your family.  The airbags are most likely to explode in warmer and humid climates like Georgia and South Carolina, but West Virginia experiences hot, humid weather too.
The accidents all happened in warmer, humid climates and involved airbags made by Japanese manufacturer, Takata. Currently, 7.8 million vehicles from 10 car manufacturers are being recalled, which includes every vehicle equipped with a defective Takata airbag that is located in a warmer climate (Southeastern states). Moreover, the National Highway Traffic Safety Administration  (NHTSA) is requesting that automakers extend the recall nationwide. There is evidence that Takata knew about the airbags being possibly defective as early as 2004.
In some cars, especially Toyotas, the affected airbag is only on the passenger side. So if your car is on the recall list, doing some additional research on your specific vehicle as it relates to Takata airbags may be helpful. For example, if only the passenger side is affected in your automobile, you may not want to let anyone ride in the passenger seat until the defective airbag is replaced.
If your car has a defective airbag, you may want to consider carpooling or taking public transportation until you resolve the airbag problem. Driving slower may reduce the instances of the airbag being deployed in case of a collision, but that is not a safe strategy and does not substitute for fixing the problem.
While the recall is alarming, airbags do save lives. Since they were introduced in the 1970s, airbags have saved tens of thousands of people involved in auto accidents.
Get a Free Consultation with an Experienced Automobile Crash Lawyer
If you or a loved one has  been injured in a West Virginia automobile accident or by a defective airbag, we invite you to call us for a FREE evaluation of your case.  Call us toll free at 1-877-943-WEST (1-877-943-9378) or send us a free consultation request using the form at either the top or the bottom of this page.
We will help you evaluate your case and understand your options. We are located in Charleston, West Virginia and serve clients throughout the state. If you can't come to us, we will come to you. There is No Fee unless we recover money for you.
Brooks West is a West Virginia personal injury lawyer who helps people who have been injured by negligence or wrongful conduct. He is the President and founder of West Law Firm and has been an attorney since 2005. Brooks is a Multi-Million Dollar Advocates Forum member and has been awarded the AV Preeminent Rating from Martindale-Hubbell.