Getting a Second Doctor's Opinion Could Save Your Life
Getting a Second Opinion in West Virginia is One of the Best Ways to Take Charge of Your Health
Liza Bernstein was diagnosed with early-stage breast cancer at age 29. Liza is now 50-years old, a community organizer, artist and patient advocate.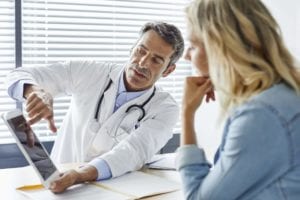 She is not sure she would still be alive though if she hadn't decided to get a second opinion after undergoing a lumpectomy. Her first oncologist told her she didn't need chemotherapy and was very dismissive about her concerns, she says.
At first, Liza was hesitant to seek out other doctors' opinions because her first doctor told her she was fine and that he knew what he was talking about. Something about her doctor's evaluation and recommendations didn't feel right to Liza, though. Fortunately, she trusted her instincts and decided to get a second opinion.
The second doctor Liza saw determined her pathology reports needed reexamined. Another medical review of these reports led to the discovery of cancer cells that were initially missed by Liza's first doctor. This completely changed Liza's course of medical treatment, which probably saved her life.
"The doctor is not God. They can do amazing things, and I have the utmost respect for the profession, but they are all human."
— Patient advocate Liza Bernstein and breast cancer survivor.
Why Second Opinions Matter
Liza's story is unfortunately fairly common. Medical malpractice may now be the third leading cause of death in West Virginia and the U.S., according to Johns Hopkins University School of Medicine Study. According to Johns Hopkins patient safety experts, medical error kills more than 250,000 people each year in the U.S.
Getting a second opinion is one of the best ways to protect yourself from a medical error. Misdiagnosis or failure to diagnose, like in Liza's story, is one of the most common forms of medical malpractice that affect patients in West Virginia and throughout the country.
Also, as many as 60% of patients who opted for a second opinion got a major change in their diagnosis or treatment, according to an expose about second opinions in the Los Angeles Times. A correct diagnosis is often the first step to curing or effectively treating a disease, illness or injury.
Even if you get a second opinion that confirms your first doctor's diagnosis and treatment plan, your second opinion will likely give you more peace of mind and confidence in the diagnosis and treatment prescribed. That peace of mind will likely mean less stress for you and thus a stronger immune system.
Do I Have a Right to a Second Doctor's Opinion?
Second opinions are a way to learn about your diagnosis and choices for treatment options, not to just see if your first doctor made an error, according to patientadvocate.org. For example, some doctors are more conservative while others tend to be more aggressive. A patient has rights, and one of your most important rights is the ability to get a second opinion about your diagnosis and/or treatment plan. Being informed is critical to making the best choice of treatment for you.
Over one third of adults in the United States will never seek a second opinion, according to recent studies. Also, almost one in ten of newly diagnosed patients don't fully understand their diagnosis. A second opinion means you are consulting with another doctor to confirm a diagnosis or to catch a misdiagnosis as in Liza's case above, and/or find possible different treatment choices available to you. Getting a second opinion as soon as possible will help avoid delays in your treatment and recovery.
How to Get a Second Opinion and Will My Doctor be Upset if I Get One?
Most doctors will welcome another doctor's input and perspective. In fact, one retired dentist, Dr. T.I. Hodges, said he routinely asked other dentists for second opinions about his patients until he retired in his late 70s. He said it's the doctors who don't ask for help and advice from other doctors whom you should be afraid of.
Also, your doctor may be able to recommend a specialist for the second opinion. Your primary care physician is a good place to start when seeking a referral for a second opinion. A good doctor understands your right and need to be well informed about your health and should support a second opinion. If your primary care physician does not understand and/or support your rights to be a well informed patient and have a say in your medical care, you probably want to find a new primary care physician.
Will My Health Insurance Pay for a Second Opinion?
Most health insurance plans will pay for at least part of the cost of a second opinion, especially if it's deemed medically necessary. Medicare will pay for 80% of the cost of a second opinion, and will even pay 80% of the cost for a third opinion if the first two doctor's opinions differ. To learn more about Medicare and second opinions call 1-800-MEDICARE (1-800-633-4227). Or for specific rules by state for a second opinion you can visit Medicare Coverage.
Call your health insurance provider before getting a second opinion to prevent any confusion or unjustified denial of the bill.
Getting the Most from Your Second Opinion
Educate yourself as much as possible about your condition before arriving for your second opinion. Also, be sure to bring with you all your relevant medical records, contact information about the first physician, list of medications and allergies, and any diagnostic test results. You have a right to copies of your medical records and test results.
Bring a friend or family to your second opinion is another strategy to help ensure you get the most accurate diagnosis and helpful treatment plan.
Ask a West Virginia Medical Malpractice Lawyer
We hope this article helps keep you safe from medical errors. However, if you suspect you or a loved on was injured by a negligent doctor, hospital, nursing home, or other medical provider, we invite you to call West Law Firm for a Free Consultation. Our Toll Free Number is 1-877-943-9378, and there's never a fee unless you win. If you can't come to us, we will send a West Virginia medical malpractice lawyer to you.
Brooks West is a West Virginia personal injury lawyer who helps people who have been injured by negligence or wrongful conduct. He is the President and founder of West Law Firm and has been an attorney since 2005. Brooks is a Multi-Million Dollar Advocates Forum member and has been awarded the AV Preeminent Rating from Martindale-Hubbell.