Free Gasoline for West Virginia Health Care Workers From West Law Firm's Personal Injury Lawyers
CHARLESTON, WV — To help the sick and injured, West Virginia healthcare workers must do the opposite: They tend to countless sick patients, some of whom may have COVID-19 knowing their services are critical to the health, life, and safety of all of West Virginia.
As a small gesture of appreciation for West Virginia's health care workers, West Law Firm, along with WQBE, Exxon One Stop, and two others sponsors, is offering West Virginia healthcare workers Free Gasoline this Friday.
West Virginia Healthcare Workers Join One of Our Personal Injury Attorneys at Exxon One Stop in Kanawha City this Friday 7-9 am for Free Gasoline
All WV healthcare workers are invited to join West Law Firm, WQBE, and other sponsors this Friday April 24th, from 7-9 am at the Exxon One Stop in Kanawha City for free gasoline. All you have to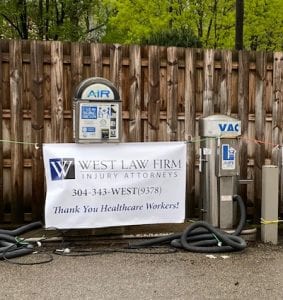 do is show your hospital or medical facility badge, and we'll give you up to $25 worth of free gasoline. Exxon One Stop's address is 4928 MacCorkle Ave SE, Charleston, WV 25304.
Get a Free Consultation with a Charleston, West Virginia Personal Injury Lawyer
We are also offering Free Legal Consultations to healthcare workers and to anyone else who has been injured in an accident, at work, on dangerous property, or because of negligence. Our toll free number is 1-877-943-9378, and, at West Law Firm, there's No Fee unless and until we recover compensation for you.
Above all, THANK YOU West Virginia healthcare workers! We love and thank you for your service!!! Prayers for your safety, health, and happiness.