Free Dogs — Charleston Animal Shelter in Crisis — West Law Firm will pay the adoption fees for 20 dogs and match up to $1,000 in donations
Animals in Danger — Free Dogs, but we need your help
The Charleston Kanawha Animal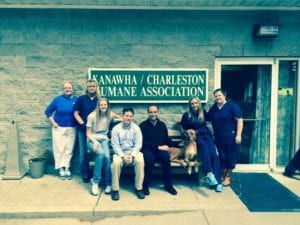 Humane Association and the animals it shelters and protects are facing a dire crisis. The shelter has no more room to take in new animals, which threatens its no-kill policy. "There are no more crates, we have run out of room and we cannot possibly take in any more animals," according to the shelter.
"All of our kennels are full, ISO is full, cat room is full. When you walk in the lobby there are crates of puppies and kittens everywhere and Nester is at capacity as well," said a shelter representative.
Free Dogs — West Law Firm has paid the adoption fee and initial vet bill for 20 dogs and will match up to $1,000 in donations
65 dogs need adopted.  That's why West Law Firm has agreed to
pay for the adoption of 20 dogs (like Rosie to the right who was adopted by the West family from the shelter in May).  She has been a joy and blessing to the West Family.  We can't imagine our lives without her.
Now, all these dogs need are loving families to adopt them free of charge.  Please visit the Kanawha Charleston Animal Shelter or call them for details.  They are located at 1248 Greenbrier Street, Charleston, WV 25311 | (304) 342-1576 |info@adoptcharleston.com
West Law Firm will also match up to another $1,000 in donations so that more families can adopt dogs free of charge.   Please call or visit the Kanawha Charleston Shelter to make a donation if you are able and willing.
Brooks West is a West Virginia personal injury lawyer who helps people who have been injured by negligence or wrongful conduct. He is the President and founder of West Law Firm and has been an attorney since 2005. Brooks is a Multi-Million Dollar Advocates Forum member and has been awarded the AV Preeminent Rating from Martindale-Hubbell.