Free Dog and Cat Adoptions for Christmas! West Law Firm is Co-Hosting a Holiday Adoption Event at KCHA December 13 & 14
Visit the Kanawha Charleston Humane Association December 13th & 14th to Adopt a Christmas Pet at a Free or Reduced Adoption Fee
CHARLESTON, WV — Have you been searching for that special present for your family this Christmas? Do you love animals and hate to see them without a home and family? Well, here's a win/win opportunity for your family and a lucky pet waiting to be adopted at the Kanawha Charleston Humane Association.
West Law Firm is co-sponsoring a Holiday Adoption Event at KCHA where dog adoption fees start at $0, and all cat adoptions are FREE.
KCHA is a fantastic place to find wonderful pets like Rosie on the right. Brooks West of West Law Firm adopted Rosie from KCHA, and she quickly became a cherished member of the West family!
Details About the Holiday Adoption Event at KCHA this December 13th & 14
Free adoption fees for all dogs that have been with the KCHA prior to October 15, 2019
Free adoption fees for all cats (older than 4 months)
$50 Adoption fees for dogs that entered the shelter between October 16 and December 1
$50 adoption fee for kittens less than 4 months old
All adoptions include spay/neuter, vaccinations, microchip, deworming, and flea/tick prevention. Adoptions also include thirty days of FREE pet insurance and more than $600 in special offers from Petco! 
Visit adoptcharleston.com/adopt to see all the currently adoptable pets at KCHA.
Kanawha Charleston Humane Association's Mission and How You Can Help
KCHA is committed to saving the lives of animals through sheltering, adoption, foster care, spay and neuter programs, cruelty prevention, and community outreach. By adopting an animal at KCHA this Christmas, you will be giving a priceless gift to your family and to a furry friend who needs a home.
So, if you have the space, time, and resources, please visit KCHA to find your newest family member.
About West Law Firm — Charleston, West Virginia Personal Injury Lawyers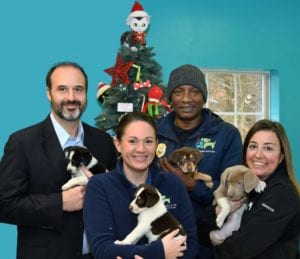 West Law Firm's mission is to help people who have been wrongfully injured in West Virginia. West Law Firm and Brooks West also regularly give back to the community by supporting charities and non-profit organizations like KCHA.
We hope you and your family stay safe this holiday season. However, if you or a loved one has been injured in an accident or because of negligence, we invite you to call us for a Free Consultation. Our toll-free number is 1-877-943-9378.
Brooks West is a West Virginia personal injury lawyer who helps people who have been injured by negligence or wrongful conduct. He is the President and founder of West Law Firm and has been an attorney since 2005. Brooks is a Multi-Million Dollar Advocates Forum member and has been awarded the AV Preeminent Rating from Martindale-Hubbell.