Ethicon Surgical Stapler Recalled After Causing Injuries
Surgical Stapler Lawsuits & Recalls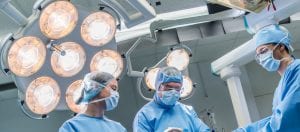 Ethicon, one of the leading manufacturers of surgical equipment, recently recalled over 5,700 surgical stapler devices and materials in the United States, while also issuing a warning to European users that the medical equipment poses a significant risk.
Ethicon's recall involves the Echelon Flex 60 Articulating Endoscopic Linear Cutters, a product with a flaw that can lead to malformed staples. Malformed staples can cause serious complications in and around the wound they are meant to help heal, which in extreme cases can lead to wrongful death.
According to the recall report, the flaw is connected to an "out of specification component" that causes malformation of the staples when they are used in a patient. If a problem with the staples is not immediately recognized, there is an enhanced risk for prolonged surgery, leakage from the wound, hemorrhaging, hemorrhage shock, and the need for surgical intervention.
As of issuing the recall in early October 2019, there were seven serious injuries connected to the device, as well as one death.
FDA "Class 1" Recalls Indicate Serious Risk
It's important to note the gravity of the Ethicon surgical stapler recall in contrast to the more routine recalls we hear about often. The FDA classifies this recall as a Class 1 recall, which is the most serious type of recall. In the FDA's own words: "Use of these devices may cause serious injuries or death."
To help understand the severity of this recall, here is a brief look at the FDA's recall classifications:
Class III: Recalls in this category are on products or problems not likely to cause health issues, although they still violate FDA regulations. This can include, for example, a minor defect with the packaging or a lack of proper labeling.
Class II: These recalls are slightly more serious, involving products that might cause a temporary health issue or pose a low but real risk of a serious nature. (By that, we mean the chances of a problem are low, but the consequences of a problem could be serious.) An example of this could be a drug that is under-strength but is not used for life-threatening health problems.
Class I: When there is a significant risk, the FDA classifies the recall as "Class I," which means the product is dangerous or defective enough that the chances for health problems or injury are high. Examples include food with toxins, food with undeclared allergens, labeling issues on critical medication. And, other other examples include defective medical equipment, such as artificial heart valves, or, in this case, surgical staples.
Clearly the FDA is concerned about Ethicon's Flex 60 Articulating Endoscopic Linear Cutters, as they have been placed in the same risk-level category as mislabeled life-saving medication and improperly-functioning heart valves.
Surgical Staples: The "#1 Health Technology Hazard"
To add even more concern to the situation, the ECRI Institute, a research authority on medical practices and products, has called surgical stapler misuse the top health technology hazard of 2020.
This means that, as far as the institute is concerned, surgical staplers present a greater risk than improper sterilization procedures, unproven surgical robotics, missing implant data, and errors in medication timing. Think about that for a moment: the risk presented to the general population by surgical staplers is higher than the risk of people taking medication at the wrong time.
According to their release, the chances of being harmed by surgical staples (what they call the "adverse event rate") is relatively low. However, when someone is harmed by these devices, the severity of harm can be high and even deadly.
Not the First Surgical Stapler Recall from Ethicon
Ethicon, a subsidiary of Johnson & Johnson, is a major manufacturer of numerous medical devices. As a large organization within the medical industry, this is not the first time that Ethicon has dealt with recalls related to their products. In fact, this is the second Class I recall in 2019 that was related to their surgical staple products.
In April of the same year, the FDA issued a Class I recall on two Ethicon products:
Endo-Surgery Curved Intraluminal Stapler with Adjustable Height Staples
Endo-Surgery Endoscopic Curved Intraluminal Stapler with Adjustable Height Staples
This recall involved over 92,000 devices in the United States, and also involved malformed staples delivered by the stapler. Because of "insufficient firing," staple integrity could be compromised. Use of these devices, in certain situations, could cause significant injury and even death, and Ethicon themselves confirmed the injuries on two patients.
It should be noted, however, that multiple Class I recalls do not indicate that Ethicon is inherently an immoral, negligent, or unethical company. It simply shows that surgical staplers, whether from Ethicon or another manufacturer, have a high level of risk that needs to be considered when planning medical treatment, as well as designing these devices.
Combined with the fact that the ECRI Institute names surgical staplers their top medical technology risk, it's clear that these devices need to be manufactured and implemented with the highest level of care and caution.
What Should You Do if You Were Injured by an Ethicon Surgical Stapler?
While the FDA and manufacturers are trying to make surgical staplers safer and more reliable, many people across the country, have already been injured by these devices. The costs of surgical stapler malfunction or misuse can be staggering, and can include further medical care, the loss of wages, and the potential loss of mobility, which may require the purchase of costly equipment.
If you have experienced harm from misused or malfunctioning surgical staples, you may be entitled to significant compensation from multiple parties. Depending on the specific case, the manufacturer of the products used in your procedure may be liable for monetary damages.
There is also the chance that the medical providers who used the surgical staplers may be liable for medical malpractice. While the device in question may have issues, there is the chance that a doctor, surgeon, or nurse misdiagnosed your case or misused the surgical staplers. In this case, a medical malpractice lawsuit may be appropriate. However, it's likely that most lawsuits and claims will focus on the manufacturer of surgical staplers.
Get a Free Consultation With a Surgical Stapler Injury Lawyer
If you suspect you or a loved one has been harmed by the misuse or misapplication of surgical staples, we invite you to call West Law Firm for a Free Consultation. Our toll free number is 1-877-943-9378, and there's never a fee unless and until you recover compensation.
Brooks West is a personal injury lawyer, founder, and President of West Law Firm. He has been helping those wrongfully injured in West Virginia for almost two decades. The results and service he provides his clients have earned him membership in the Multi-Million Dollar Advocates Forum and the AV Preeminent Rating from Martindale-Hubbell. Brooks is most proud of the many 5-star reviews he has received from satisfied clients.