Crackdown on drinking and boating expected for this weekend in West Virginia
When the temperatures soar and schools are out for summer, West Virginia's lakes and rivers are a great place to enjoy while boating.
It's a fun time for families, but it's also easy to lose sight of some of the dangers on the water.  According to statistics, boaters often fail to take the same care they use while driving a car on the highway. Unfortunately, this relaxed attitude can also apply to drinking alcohol on boats.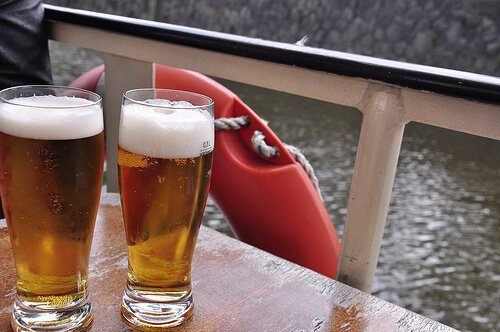 The same rules about drinking alcohol while driving automobiles apply to boats and officials in West Virginia are set to enforce them rigidly over the coming weekend.
From Friday through Sunday, officers will be out in force seeking boaters whose blood alcohol content exceeds the West Virginia state limit of .08, reported the Charleston Gazette.
Under a nationally coordinated effort called Operation Dry Water, there will be increased patrols, breathalyzer tests, and checkpoints as well as boater education.
Lt. Tim Coleman of the state Division of Natural Resources said enforcement would be stepped up across the state. However, officers will be targeting particular problem areas in West Virginia such as Summersville Lake and the Ohio River, reported WSAZ3.
Just like drinking and driving, operating a boat while under the influence can cause accidents, injuries, and sometimes death.  The West Virginia Division of Natural Resources investigated 25 boating accidents including five fatalities in 2012. A significant number of fatal accidents are caused by drunken boating every year. According to the U.S. Coast Guard, Boating under the Influence (BUI) accounts for 34 percent of fatal accidents on the water.
There's also evidence that conditions such as sun, wind, vibrations and engine noise from a boat, can exacerbate the effect of alcohol, meaning it's even more dangerous to pilot a boat after drinking than it is to drive a vehicle.
Alcohol may affect your night vision, your balance, your coordination and your reaction times.
Law enforcement officers will be looking out for boaters who are driving their vessel erratically. The boater will also be asked to perform field sobriety tests and to take a chemical test. The penalties are the same as those for someone who is driving a car under the influence.
A drunken boater does not only have the criminal law to worry about. Those who are hit and hurt by a drunken boater – or close family members of someone who is killed – may have grounds to file a personal injury claim against the drunken boater, the owner of the boat, and possibly others, including those who were also intoxicated and encouraged or allowed the drunken boater to operate the boat while intoxicated.
Most people do not think it will happen to them if they have a few beers on the water, but deaths do occur from drunken boating. This month in Illinois David Hatyina, who caused a fatal speedboat accident last summer, received a prison sentence equal in length to the age of the boy killed in the crash.
"David Hatyina received a 10-year sentence for being legally drunk and having cocaine in his system when he struck 10-year-old Tony Borcia while the boy was tubing on the Chain O' Lakes in Lake County," reported the Chicago Tribune.
In another high profile BUI case, recently the Huffington Post reported on how Erin Brockovich, the environmental campaigner and movie namesake, will face a misdemeanor charge of operating a boat while intoxicated at Lake Mead in Nevada.
Contact a West Virginia Personal Injury Attorney
Legal claims involving boating collisions are usually governed by the West Virginia laws of negligence. If you have been injured due to negligence or other misconduct, we invite you to contact a West Virginia boating injury lawyer for a free consultation.  Our toll free number is 1-877-943-WEST (9378).