UPDATE: Coal Miner Injured in Fatal Marshall County, WV Mine Collapse Released From Hospital
Good news — According to the office of Miner's, Safety & Training, one of the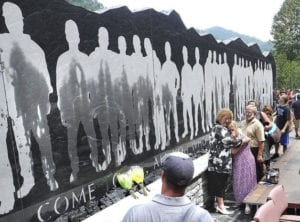 two coal miners injured in a fatal incident that occurred Sunday evening, March 8, 2015, at the McElroy Mine in Marshall County was released from the hospital. The other miner remains hospitalized.
Unfortunately, the other of the three miners involved was killed in the incident. The three miners were forty-five-year-old Assistant Longwall Coordinator John M. Garloch, who was fatally injured, and two other miners were injured and transported to local hospitals for treatment.
The mine, owned by Murray Energy, was reported to have had more than "a dozen citations…in the week prior to the accident." According to the Charleston Daily Mail, there have been 189 citations issued to the mine where this most recent accident occurred. The citations included "hazardous conditions, air quality, coal dust accumulation and other safety issues. The mine received 870 citations in 2014."
Just days before this accident, thousands of people gathered at the Capitol for a Mountaineer Workers Rising Rally in opposition to SB 357, known as the Right to Work (RTW) bill . The new Republican majority has proposed a bill that they say will "make coal in WV more efficient and competitive" while those who oppose the bill believe it is a step backward that will put coal miner's safety at risk. According to the WV AFL-CIO, in states where the RTW bill has been passed, the average worker makes $5,971 less per year than a worker in a free bargaining state and workplace fatalities are 54.4% higher in RTW states where unions can't speak up on behalf of workers. In West Virginia, we've seen our share of devastation and loss due to permits with special exceptions and safety citations that are allowed to grow into the hundreds.
Coal has a long history in West Virginia. It gained in popularity due to its ability to burn hotter than wood, which meant it could produce higher amounts of energy. In West Virginia during the early 1900s, the booming profit of coal led to the creation of new towns, the development of new trains and a culture that has since been entwined with coal and the coal industry. However, the relationship has been one with many struggles and loss. Even though over 110 years have past since the United Mine Workers of America achieved recognition in West Virginia, mine workers today are still fighting for their right to a safe workplace.
Brooks West is a West Virginia personal injury lawyer who helps people who have been injured by negligence or wrongful conduct. He is the President and founder of West Law Firm and has been an attorney since 2005. Brooks is a Multi-Million Dollar Advocates Forum member and has been awarded the AV Preeminent Rating from Martindale-Hubbell.