Free Dog Adoptions for Christmas! West Law Firm is Sponsoring the adoptions of 27 Dogs at the Kanawha Charleston Humane Association
27 Dogs Who Cannot Wait For Christmas in Charleston, West Virginia
CHARLESTON, WV — Have you been searching for the ideal present for your family this Christmas? Look no further — there are lots of lovable animals at the Kanawha Charleston Humane Association who would make a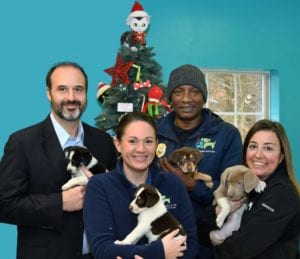 perfect gift. And better yet, West Law Firm is paying for the adoption cost and fees for the first 27 dogs adopted at KCHA starting on December 15th!
The Kanawha Charleston Humane Association is always an amazing place to find a wonderful pet like the puppies in the picture on the right being held by West Law Firm attorney Brooks West, and a few members of the KCHA team. West Law Firm's sponsorship covers the adoption costs of 27 adult dogs. This includes free vaccinations, spay/neuter, a microchip, and 1 month of free pet insurance. Please visit KCHA to see many of the beautiful dogs available for adoption.
Kanawha Charleston Humane Association's Mission and How You Can Help
The Kanawha Charleston Humane Association has at least two important goals:
Save every adoptable and treatable animal that enters its facility
Ensure each and every animal in Kanawha County is safe and loved
By choosing to adopt an animal at KCHA this Christmas, you will not only be giving a priceless gift to your family, you will also be helping a furry friend in need of a home. So, please visit KCHA to find your newest family member. KCHA's mission is to continue as a leader in progressive animal sheltering, eliminating unwarranted euthanasia, and helping to create a community that celebrates life and the human-animal bond.
About West Law Firm in Charleston, West Virginia
West Law Firm's mission is to provide people who have been wrongfully injured in West Virginia the compensation and legal service they deserve. If you or a loved one has been injured in an accident or because of negligence, we invite you to call us for a Free Consultation. Our toll free number is 1-877-943-9378.
Brooks West is a personal injury lawyer, founder, and President of West Law Firm. He has been helping those wrongfully injured in West Virginia for almost two decades. The results and service he provides his clients have earned him membership in the Multi-Million Dollar Advocates Forum and the AV Preeminent Rating from Martindale-Hubbell. Brooks is most proud of the many 5-star reviews he has received from satisfied clients.