Is West Virginia Law that Exempts Some Chemical Companies from Inspection to Blame for Water Crisis?
Under current West Virginia law, why are chemical companies like Freedom Industries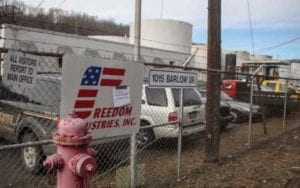 "FREE" to store toxic chemicals next to our water supply without having to pass reasonable safety inspections?  There is a loop hole in the law that allows chemical companies to sell, store, and distribute chemicals in West Virginia without having to pass inspections if they don't make the chemicals.  
This is presumably how Freedom Industries got away with storing the chemicals that poisoned West Virginia's water supply in a "very old", defective dyke.  This law raises many questions including the following:
When it's obvious that storing toxic chemicals near our water supply poses a threat to safety and health if not done in a careful manner, why would lawmakers allow corporations to store toxic chemicals near our water without having to pass reasonable safety inspections?
Above all, Why are West Virginia lawmakers not now assuring us that new laws will be made to protect our water from being poisoned again?
Presumably, West Virginia lawmakers failed to anticipate that the water supply of over 300,000 West Virginians would be poisoned when deciding to not require inspections of chemical storage sites owned by companies that only store and sell toxic chemicals.  However, now that we know the consequences of our laws, we need swift action from our lawmakers.  
Freedom Apparently took no action to contain toxic leak until after DEP arrived
In one enforcement order, DEP officials allege that the company had taken "no spill containment measures" prior to DEP agents arriving at the site and discovering the leak.
"The facility did not give any real attention to containment," Bauerle said.
State and county officials have described the Freedom facility's spill containment dike as full of cracks and holes.
"It's a very old dike," Sigman said. "If it had been my home's foundation, I would be concerned."
At West Law Firm, we hope that West Virginia lawmakers take quick action to make laws requiring that all corporations and organizations who store, make, handle, sell, and/or distribute chemicals be subjected to reasonable safety inspections. The damage that has been caused by Freedom Industries and our failure to require reasonable inspections may unfortunately have far reaching effects, and this could have been easily prevented.
Our thoughts and prayers go out to our fellow West Virginians.  Wishing you all health, safety, and prosperity.
Brooks West is a West Virginia personal injury lawyer who helps people who have been injured by negligence or wrongful conduct. He is the President and founder of West Law Firm and has been an attorney since 2005. Brooks is a Multi-Million Dollar Advocates Forum member and has been awarded the AV Preeminent Rating from Martindale-Hubbell.