Can an Accident Cause PTSD? Signs and Symptoms to Look For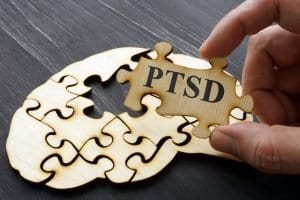 Post-Traumatic Stress Disorder (PTSD) is often associated with military combat and catastrophic events; however, PTSD may be more common than you think. In fact, about 8 million adults have PTSD during a given year, according to the National Center for PTSD.
PTSD can happen after a person experiences or witnesses a frightening, shocking, or life-threatening event like an automobile accident. Accidents trigger the brain's fight-or-flight response, which is a normal reaction to a traumatic event. However, 30% of those involved in a motor vehicle accident experience PTSD symptoms present for at least a month after the accident.
Accident-Related PTSD Signs, Symptoms, and Diagnosis
PTSD can significantly impact one's ability to go about everyday activities and lead to other mental health issues such as anxiety and depression. PTSD, when untreated, can affect a person's ability to work, perform day-to-day tasks, and negatively impact their relationships. Below are the main criteria used to determine whether a person is experiencing PTSD or not.
4 Symptom Categories for PTSD Diagnosis
PTSD symptoms are divided into four main categories. To be diagnosed with PTSD, you must experience at least one of each type of symptom for at least one month. Only a professional can diagnose you with PTSD, so it is crucial to seek professional care when symptoms persist.
1. Re-experiencing symptoms:
Flashbacks—reliving the trauma which can provoke physical symptoms such as a racing heartbeat and sweating
Nightmares that disrupt sleep or lead to sleep avoidance
Frightening and intrusive thoughts about the accident
2. Avoidance symptoms:
Avoiding places, objects, or events that are reminders of the accident. For many, this may mean the inability to drive a car without experiencing significant distress.
Avoiding thoughts or emotions related to the trauma.
Avoidance symptoms can lead a person to alter their everyday routine, leading to a serious disruption in their life.
3. Arousal symptoms:
Feeling unduly tense
Difficulty sleeping
Being easily startled
Having outbursts of anger
Arousal symptoms are usually constant instead of triggered by things that remind one of the accident. Arousal symptoms can cause an overall sensation of stress, and the person may struggle with daily tasks such as sleeping, eating, and self-care.
4. Cognition and mood symptoms:
Difficulty remembering the time before, during, and after the accident
Distorted or disproportionate feelings of guilt or blame
Loss of interests in activities that were once enjoyable
Negative, intrusive thoughts
Cognitive and mood symptoms can also result in a major depressive episode and cause the person to detach from friends and family members.
It can be normal to have some of these thoughts and feelings after a traumatic event. However, the symptoms should resolve within a few weeks of the accident and should not be severe and unrelenting. If symptoms persist or interfere with your enjoyment of life, you should discuss PTSD with your doctor. Untreated PTSD can lead to depression, anxiety, or substance abuse, and interfere with major life functions. So, it's important to seek help as soon as possible.
Treatment Options for PTSD
There are numerous treatment options for post-traumatic stress disorder. You may need one or a combination of therapies to help resolve the symptoms of PTSD. Some of the most well-researched treatments for PTSD include:
Trauma-focused psychotherapy—is one of the most highly-researched and recommended treatments for PTSD. Different techniques are used to help the patient learn to process the traumatic event.
Medications—such as antidepressants and anti-anxiety drugs may be used to help you cope with the symptoms of PTSD.
Talk therapy—traditional talk therapy can help someone suffering from PTSD process the trauma events and develop healthy coping skills.
Combination therapy—often the most effective therapy for PTSD is a combination of different psychotherapy and medication types.
Treatment for PTSD takes time to work, but it is essential to remember that it can be highly effective in helping to resolve the symptoms.
Is Compensation Available in West Virginia for PTSD Injuries
If your PTSD was caused by a car accident, trucking accident, or work injury, for example, you may be entitled to compensation for your PTSD. Emotional and psychological injuries like PTSD can be as distressing and disruptive as a physical injury.
Proving PTSD and getting full and fair compensation for PTSD will likely require the help of an experienced injury lawyer. Under West Virginia law, recovering compensation for PTSD will also likely require a medical diagnosis. If you'd like a free and confidential case evaluation, we invite you to call us today at 1-877-943-9378 (WEST).
West Virginia also allows people wrongfully injured by negligence to recover both economic and non-economic damages. Some examples of economic damages include:
Medical expenses
Lost wages
Personal property damage
Some example of non-economic damages include:
Physical pain and suffering
Mental anguish
Loss of consortium (companionship)
Loss of expected enjoyment of life
Free Case Evaluation by an Experienced West Virginia Accident and Injury Lawyer
If you or a loved one has been injured in a West Virginia accident, we invite you to call one of our experienced personal injury attorneys for a free consultation. West Law Firm, located in Charleston, WV, is one of the highest rated personal injury law firms in the state. We take pride in treating each client, no matter the size of their case, like our most important client.
Give us a call today at 1-877-943-0378 to schedule a no-obligation Free Consultation.
Brooks West is a West Virginia personal injury lawyer who helps people who have been injured by negligence or wrongful conduct. He is the President and founder of West Law Firm and has been an attorney since 2005. Brooks is a Multi-Million Dollar Advocates Forum member and has been awarded the AV Preeminent Rating from Martindale-Hubbell.