9 Ways to Avoid an Auto Accident While Driving in Snow and Ice
Driving in snow and ice causes about 156,000 auto accidents every year and over 1,800 deaths, according to federal data on winter driving. Fortunately, you have some control over these dangers and can increase your chances of staying safe this winter, especially while driving on rural roads and highways.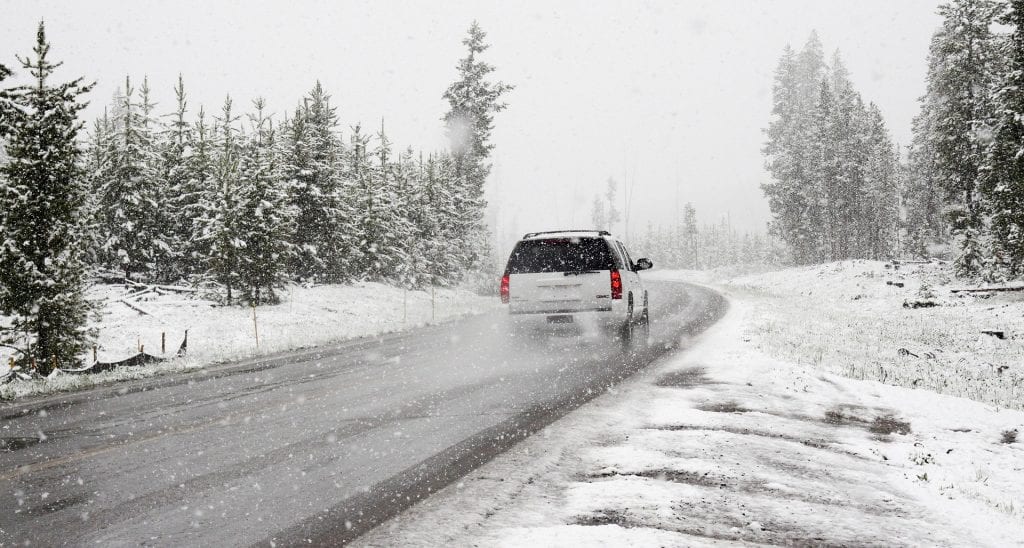 9 Safe Driving Tips When Driving in Winter
1. When You Start to Slide, Ride the Skid
If you feel your wheels start to slip to one side, it's easy to panic and slam your foot on the brake. Don't.
While modern braking systems make it less likely that you'll lose control, hammering the brakes could still cause an accident. Instead, lay off the gas pedal and gently steer the nose of the car back towards the center line.
Stay off the gas and the brakes and ride the skid back to a safe position. (By the way, if you skid once, there's a good chance it will happen again, so it may be best to head home if that's closer than your intended destination.)
2. Keep Cruise Control Off When Slippery
Cruise control, which locks in your speed, should only be used on long stretches of straight, relatively-clear roads. There are many situations when you want to turn off the cruise control, including times when traffic is heavy or when roads are particularly winding. Snow and ice also make cruise control dangerous, so keep it off if conditions are slick.
When you are not using cruise control, you immediately feel a slip from the wheels and back off the accelerator with your foot, helping to avoid a slide and collision. But cruise control keeps constant pressure on the accelerator, so if you lose traction, the system keeps your wheels moving forward, increasing the chances of a dangerous skid.
There are, of course, modern adaptive cruise controls and advanced computer systems that reduce the chances of a skid, but even these should be avoided when it's slippery.
3. Leave Plenty of Distance Between You and the Car Ahead
A fundamental rule of winter driving is space. To have the safest possible drive, leave a large distance between you and the car ahead of you. Depending on the speed, you should have at least two car lengths between your front bumper and the lead car's rear bumper. But if you are traveling at highway speeds, increase that distance to three, four, or even five car lengths.
4. All-Wheel Drive is for Getting You Moving, Not For Driving Fast on Ice
All-wheel drive and four-wheel drive vehicles are good for getting you moving from a stop. However, they are not very helpful for keeping your car between the lines in icy conditions at high speeds. Recognizing this and not relying on these systems to keep you safe will make it more likely that you practice cautious driving regardless of the driving system on your car.
5. Change Your Wiper Blades Annually, Check Fluid Regularly
You won't realize how badly you need new wiper blades until a winter storm rolls in. With dirt, sand, salt, snow, and water covering your windshield, you can lose visibility in a hurry. Before every winter season, change your wiper blades so you can maintain visibility throughout the winter.
You'll also need to fill your wiper fluid regularly so your wiper blades can do their job. An auto parts store can not only provide the blades and fluid, most will fill the reservoir and install the blades for you.
6. Check All Lights
When winter storms blow in, it makes visibility extremely poor. You not only need to see, other drivers need to see you. Even in daylight, it can be hard for other drivers to see you, so check all of your lights, including tail lights, headlights, brake lights, and turn signals. This will ensure you are clearly marked as you travel the winter roads.
7. Have High-Quality Tires
New tires every year may not be necessary. And winter tires, while useful, may not be needed either. However, all-season tires with good tread and minimal wear are important. Old, bald tires can become an extreme safety hazard in icy conditions, so check the wear on your tires and replace them if needed.
8. Reduce Distances & Batch Trips
Less driving means less chance for an accident. Plan your routes so you travel the shortest distances, and get everything you need in one trip. For example, if you know you'll need three different items, instead of making three random trips across town, take one trip, get everything you need, and return home. Skip small trips for unneeded items, and make one trip to cover everything.
9. Check the Weather
Safe winter driving starts with preparation, and nothing is more important to your pre-driving prep than checking the weather. You don't have to stay locked in to the weather app, but you should understand the weather forecast for the upcoming days and weeks ahead.
One of the best habits is to check tomorrow's weather in the evening. That way you can see if snow or ice is expected and can plan the following day. Check the weekly forecast as well. If you see that snow might fall on, say, Thursday, you can plan to leave early Thursday morning.
3 Lesser-Known Dangers of Driving in Winter
There are, of course, obvious factors that make winter driving hazardous. The most obvious is snow and ice, which create slick conditions, reduce traction, make it harder to brake safely, and cause loss of control.
But snow and ice are not the only contributors. Below are 3 other factors that being aware of and preparing for will help keep you safe this winter when driving in snow and ice is unavoidable.
1. Less Daylight
For one, there is less daylight, so more people are driving in the dark. In the summer, you're likely driving to and from work in full daylight. In winter, both of your commutes can be in complete darkness. More people driving in the dark means a greater chance for accidents.
2. Snow Plows
When it snows, local and state governments do their best to clear the road, which means massive snow plows on the highways. These large trucks, which are essential to long-term road safety, create poor visibility by kicking up snow. Like all commercial trucking accidents, when snow plows are involved in crashes, they can create massive damage..
3. Hypothermia
There is also the simple fact of temperature. If you slide into a snow-filled ditch and have to wait hours for help, you could be waiting in sub-zero temperatures. This alone creates a grave danger. So not only are your chances of an accident increased when driving in snow and ice, the potential consequences are likely to be more significant.
Free Consultation With a Charleston, West Virginia Auto Accident Lawyer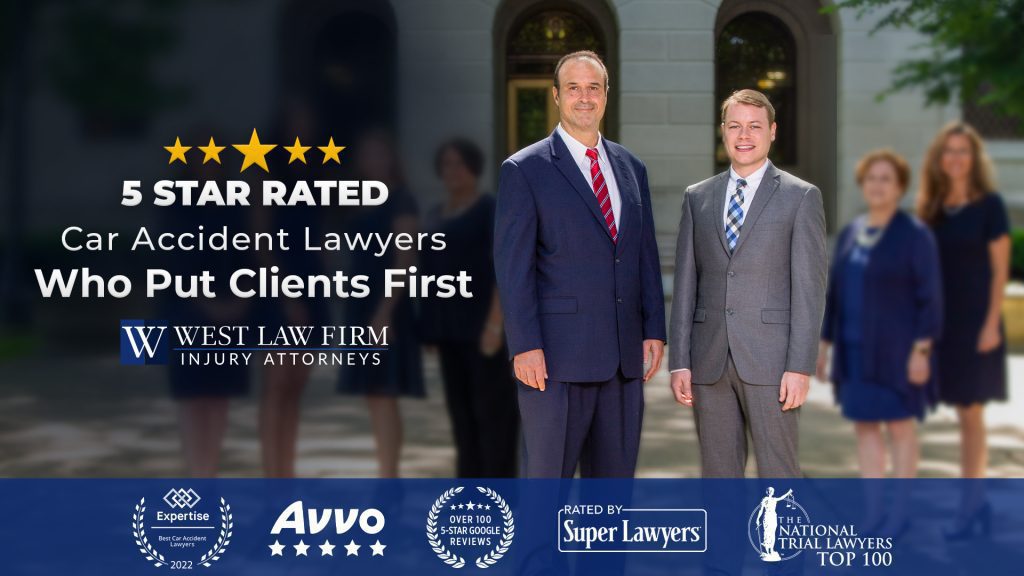 We hope this information helps you have a safe winter! However, car accidents are unfortunately common. So, if you or anyone in your household has been hurt in an accident or injured by negligence, we invite you to call one of our West Virginia accident lawyers for a Free Personal Injury Case Evaluation.
Also, at West Law Firm, there's never a fee unless and until you recover compensation. We're located in Charleston, West Virginia, and serve clients throughout the state. Our toll-free number is 1-877-943-9378 (WEST). We look forward to hearing from you!
Brooks West is a personal injury lawyer, founder, and President of West Law Firm. He has been helping those wrongfully injured in West Virginia for almost two decades. The results and service he provides his clients have earned him membership in the Multi-Million Dollar Advocates Forum and the AV Preeminent Rating from Martindale-Hubbell. Brooks is most proud of the many 5-star reviews he has received from satisfied clients.