7th Annual Walk With Me Event for West Virginia Children In Foster Care
Join West Law Firm at the Power Park for Walk With Me on May 16 to support children in foster care
There are more than 4,000 children in foster care in West Virginia, each one deserving of a safe and loving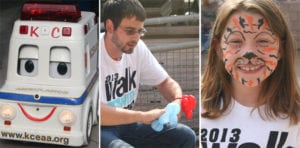 family, each one needing to know that there are caring adults who want the best for them.  On Saturday, May 16th you are invited to put on your walking shoes and take steps toward a brighter future for kids in foster care. Walkers of all ages are invited to participate in this event, which will be held at the Appalachian Power Park at 601 Morris St., Charleston, WV. Registration begins at 9 a.m. and the walk starts at 10 a.m.
Walk with Me is a 5k walk done at your own pace, whatever that may be. The atmosphere of the walk can be described as "carnival-like" with face painting; balloon animals; a jump house; yard games; cotton candy; snow cones and more. There will also be representatives from several agencies available to speak with anyone who would like to learn more about foster care and/or adoption.
Walk with Me is organized by the WV Foster and Adoptive Recruitment and Retention Collaborative (R&R), a group of public and private agencies that works together to find and support loving foster and adoptive families. "This walk  is a great opportunity for everyone to share in a fun filled morning with family and friends, while learning more about the tremendous need for foster and adoptive parents for children in West Virginia. This event honors our dedicated families during National Foster Care Month and our foster and adopted children from all across the state get the chance to share in kid friendly activities together," said Julia Kessler, Director of Permanency Services for the Children's Home Society. " We truly hope anyone who cares about children in our community will join us to find out how you can help."
Walk with Me is made possible through partnerships with local businesses like who understand the importance of strong families and communities in West Virginia.  "We want to help children feel safe and secure and have the best chance at having a happy successful life. It's a win/win.," said Brooks West of West Law Firm, sponsor of Walk With Me. "Programs like this help at risk kids, which in turn helps the community they live in and are a part of – West Virginia," said Brooks.
Proceeds from this event go to Mission WV and the WV R&R to fund programming that works statewide to connect loving families with children in foster care. Entertainment during the walk this year includes face painting by RC the clown; balloon animals by Tricky Chaz the clown; KC the robotic ambulance and the Heart of Appalachia Roller Derby team. Thanks to the generosity of the Resurrection Church of Charleston, WV, there will be a block party trailer at the walk! This block party trailer offers nachos, cotton candy, popcorn, snow cones, a bounce house and lawn games.
Participants can register online www.makeYEShappen.com/walkwithme or at the registration table the morning of the walk. Anyone interested in participating who wants to learn more can call Mission WV at 866-CALL-MWV or emailcdawson@missionwv.org.
Brooks West is a West Virginia personal injury lawyer who helps people who have been injured by negligence or wrongful conduct. He is the President and founder of West Law Firm and has been an attorney since 2005. Brooks is a Multi-Million Dollar Advocates Forum member and has been awarded the AV Preeminent Rating from Martindale-Hubbell.