5 Best New Car Safety Features: Are They Worth the Cost?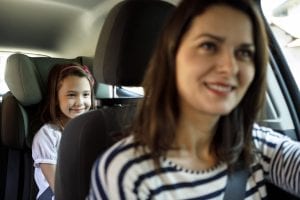 Automakers are touting the benefits of crash prevention technology hoping to motivate potential buyers. While it's true that new car safety features can mean a lower insurance premium and slower vehicle depreciation, do these new advances in technology really help prevent crashes? Research from the Insurance Institute for Highway Safety says yes!
Key Findings of the Insurance Institute for Highway Safety analysis of 5,000 accidents:
55,000 people could have avoided crashes and injury if they had lane departure warning systems

Sideswipe and head-on crashes were 11% lower in vehicles with warning systems

Vehicles with blind-spot monitoring systems had a 14% lower crash rate

Comparison studies of U.S. trucking fleets and Volvo cars in Sweden showed lane departure warnings cut auto accident rates by about 50%  
That said, not all new car safety features are created equal. For example, some features such as adaptive cruise control are not as reliable and only add cost, especially if you don't even use cruise control. 
Below is a list of new car safety features designed to save lives, but here is the caveat: The IIHS study revealed many drivers had these features but turned off the alerts. Why? Because they found the beeps and vibrations to be annoying. 
So, of course, simply purchasing the latest safety technology is not enough — you have to use them. Perhaps remembering that these safety features save lives may help make the beeps and warnings less annoying. 
5 Best Crash Prevention Safety Features
Blind-Spot Monitoring

: This safety system gives you a visual or audible alert when another car is detected in your blind spot. In this video, the

NHTSA

explains the V2V technology that makes blind spot monitoring possible.
Rear Cross-Traffic Alert:

Similarly, this feature tells you that a vehicle, one you can not yet see, is about to cross your path as you are backing up. 
Automatic Emergency Braking:

This system uses sensors to detect pedestrians and vehicles ahead. If a collision seems imminent, the brakes are automatically applied.
Lane Departure Warning & Lane-Keep Assist:

This feature gives you visual and audible alerts that you are drifting out of your lane. The lane-keep assist feature will actually steer your car back into its lane.
Forward Collision Warning:

These sensors scan the space ahead to prevent front impact crashes. For example, if you are unknowingly gaining on the car ahead, as common in heavy stop & go traffic, the system will alert you it's time to break.
Get a Free Consultation With an Experienced West Virginia Car Accident Lawyer
At West Law Firm, we wish you and your family safe travels on West Virginia roadways. However, almost all of us are involved in a car accident at some point. So, if you or a loved one has been injured in a crash or by another's negligence, we invite you to call us for a Free Consultation.
We have a strong team with a proven track record ready to help you. Also, at West Law Firm, there's No Fee or cost unless and until we recover compensation for you. Call us today toll-free at 1-877-943-9378 (WEST).
Brooks West is a West Virginia personal injury lawyer who helps people who have been injured by negligence or wrongful conduct. He is the President and founder of West Law Firm and has been an attorney since 2005. Brooks is a Multi-Million Dollar Advocates Forum member and has been awarded the AV Preeminent Rating from Martindale-Hubbell.