The 48 Hours following a West Virginia Car Accident – II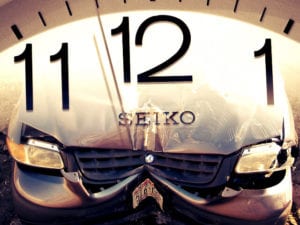 On behalf of the West Virginia personal injury law firm of West Law Offices — Below are important steps to take during the first forty eight hours following a West Virginia car accident.  Following these suggestions may help you heal faster and recover the compensation you need to be made whole.  West Virginia law provides that if you are injured because of another's negligence, then you may be entitled to enough monetary compensation to place you in as good of a position as you were in prior to the accident. 

When to seek medical attention
If you've been involved in a West Virginia auto accident, seeking immediate medical attention and contacting a West Virginia lawyer who is experienced in litigating personal injury claims is one of the best things you can to do to protect your health, family and legal rights.  Oftentimes a person leaves the scene believing that he or she is not injured only to find out the next day he or she cannot get out of bed.  The excitement and adrenaline rush of an accident can mask the pain of serious injuries. It's also natural to "shake it off" and try to convince ourselves we're not injured because we all want to be healthy and productive if possible.

It is also common for injuries manifest after an motor vehicle collision – sometimes days, weeks, or even months later.  As soon as you notice a sign of an injury, it's important to get evaluated by a doctor and talk with a West Virginia car accident attorney who specializes in personal injury law.  I've spoken with numerous people who have needlessly suffered and lost significant amounts of money by waiting to long to contact a lawyer.
When to move a car following an accident
If you are on a busy West Virginia highway and the car is drivable, move the car off of the road.  If you are not able to safely move the car due to your injury, traffic, or other reason, stay in the car with your seat belt buckled and emergency flashers on.  The cabin of your car is usually safer than standing on the side of the highway according to most experts and attorneys.
When to contact a West Virginia lawyer
It's advisable to contact a West Virginia attorney as soon as possible after an accident.  Most personal injury lawyers, including the personal injury firm of West Law Offices, offer free consultations.  A lawyer experienced in handling West Virginia car, truck and motorcycle accidents can help persons injured in an accident obtain the best possible medical care and much needed compensation.  Often, the other driver's insurance company will try to call and encourage a quick settlement for a small amount of cash.  If you accept this offer, you will be forever barred from seeking additional compensation, even if you need future medical care.  If you consult an WV injury lawyer, you stand a much better chance of getting the medical treatment and compensation you need and deserve.
Preparing for an auto accident
In short – have an emergency preparedness kit.  Prepare exchange of information cards ahead of time.  Get complete information from the other driver, including a signed fault statement if possible.  Take lots of pictures.  Get the names and contact information of witnesses.  Never admit guilt.  Always seek medical treatment, and contact a WV Auto accident lawyer as soon as possible.
Contact a West Virginia personal injury attorney
For a Contact West Law Firm for a free consultation with a West Virginia personal injury lawyer of your accident or injuries, call a West Virginia personal injury lawyer at West Law Offices anytime toll free at 1-877-943-9378.  West Law Offices proudly serves those who have been injured in accidents or by medical malpractice anywhere in West Virginia, including Charleston, WV, Beckley, WV, Logan, WV, Parkersburg, WV, and Huntington, West Virginia. If you can't come to us, an injury attorney from West Law Offices will come to you.  We charge NO FEES OR COSTS unless and until we recover money for you.
Brooks West is a personal injury lawyer, founder, and President of West Law Firm. He has been helping those wrongfully injured in West Virginia for almost two decades. The results and service he provides his clients have earned him membership in the Multi-Million Dollar Advocates Forum and the AV Preeminent Rating from Martindale-Hubbell. Brooks is most proud of the many 5-star reviews he has received from satisfied clients.