West Virginia Product Liability Claims & Lawsuits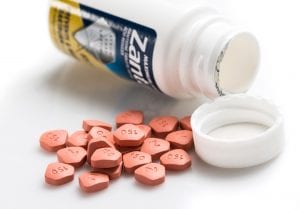 What if You're Injured by a Defective Product in West Virginia?
3 million injuries and 22,000 fatalities– those are the consequences of defective products in the United States every year. A defective product is best described as any product that's not reasonably safe for its intended usage. If you're injured by a defective product, such as Zantac to the left, you may be able to recover compensation for your injuries. If you suspect you've been injured by a defective product, the information below may help you better understand your rights and options, and we also invite you to call us for a free case review at 1-877-943-9378(WEST).
Examples of West Virginia Product Liability Claims
Below are just a few examples of product liability claims in West Virginia. Defective products often fall under the category of dangerous medications, defective medical devices, and dangerous or defective products.
Types of Product Liability Lawsuits Under WV Law
Generally, there are three types of product liability cases. The three general theories of liability include negligence, strict liability, and/or breach of warranty.  These types of claims generally fall under the category of product liability law. Products subject to such laws include virtually any tangible thing you can purchase. This includes trucks, guns, motorcycles, toys, drywall, tools, appliances, and over-the-counter and prescription drugs.
Negligence
Under a negligence claim, you must show that the manufacturer was neglectful in the design or manufacture of the product. You generally do this by proving the defendant had a duty to sell a safe product and that they breached that duty. A "breach of duty" can be shown if the plaintiff can prove that the defendant knew or should have known that the product was defective. The plaintiff must also prove that the defective product caused their injuries.
 Negligence can occur during many stages of product development, including, but not limited to:
Forming product plans

Using and maintaining the machines responsible for making the product

Failing to foresee or determine reasonable uses of the product

Failing to inspect or test the product sufficiently

Releasing the product to the consumer market too early. 
Strict Liability
Strict liability is the most common in product liability cases. With this claim, you must prove that a defect in the product exists and that it led to your injury. Once you prove this the manufacturer may be strictly liable for any resulting damages regardless of whether they exercised extreme caution and care when manufacturing the product. 
In West Virginia, the general rule for recovering under the theory of strict liability is that an injured person may recover if he or she was injured by a product that is not reasonably safe for its intended use. Also, Under West Virginia law, it's no excuse that other manufacturers are making similar products. To prevail on a defective product strict liability claim in West Virginia, you generally only have to prove that you were injured by a defective product while using the product as it was intended to be used or using it in a reasonably foreseeable way. 
Breach of Warranty 
A warranty is a guarantee made by the seller that the product is not defective or that it is up to standard in being safe and reliable in performance. The product is said to be under warranty when a representation is made at the time of sale regarding the quality of the product. If it turns out that the product is defective or not as advertised and this causes damage, you can bring a claim for a breach of warranty. When you buy a good there are two warranties you rely on: the express warranty and the implied warranty.
Express Warranty:

Any representation of the product and its safety made by the manufacturer or retailer. The express warranty has been breached if the product is not as advertised, and the purchaser is injured or suffers economic loss as a result,.

 

Implied Warranty:

An implied promise by the manufacturer (or other liable parties) that the product, if used as intended, will not cause any harm. Even if the seller has not made any specific claims about the quality and safety of the product legally enforceable warranties may still exist. 
Remember, a seller does not have to use words such as "warranty" or "guarantee" for a warranty to exist. A warranty is created as long as a seller, manufacturer, or retailer attests to the quality of the product. Furthermore, the breach of warranty cause of action covers any person who would reasonably be expected to use the product.
What Should You Do With the Defective Product

that Injured You?
The most common mistakes made by individuals after they've been injured is what they do with the product afterward. Remember, put the product and its parts in a safe place, and in the same condition, it was in at the time of your injury. Do not attempt to repair the product as it is likely the most important piece of evidence in your case. You will likely need it to show that the product was in fact defective. Of course, if you repair it, it's no longer defective and you will have effectively destroyed your evidence. The best way to preserve evidence is to speak with an experienced product liability lawyer, like those at West Law Firm. 
Get a Free Consultation With a West Virginia Product Liability Lawyer
If you or a loved one has been injured from using a defective product, we invite you to call us for a Free Consultation with one of our experienced injury attorneys. There's also No Fee unless and until we recover financial compensation for you. To protect your rights today, call the West Law Firm at 1-877-943-9378 (WEST).
Brooks West is a personal injury lawyer, founder, and President of West Law Firm. He has been helping those wrongfully injured in West Virginia for almost two decades. The results and service he provides his clients have earned him membership in the Multi-Million Dollar Advocates Forum and the AV Preeminent Rating from Martindale-Hubbell. Brooks is most proud of the many 5-star reviews he has received from satisfied clients.