Two Killed in Separate Kanawha County, WV Accidents While Not Wearing a Seat Belt
Kanawha County, WV — On Wednesday morning about 9 am, a woman was heading south on Interstate 79 when she apparently lost control of her vehicle, which rolled over, according to Cpl. Brian Humphreys of the Kanawha County Sheriff's Department. She was apparently thrown from the vehicle and killed, Humphreys said.
The victim's name is not yet being released.
Just the day before, early Tuesday morning, a Logan County woman was injured and her husband killed when their Toyota FJ Cruiser rolled over on Interstate 77 near Sissonville, West Virginia.  The Cruiser strayed into the median and flipped over about six times before coming to rest, said the sheriff's department.
Jonathan Copley, 44, who was not wearing a seatbelt, was thrown from the vehicle and killed, according to the sheriff's department. His wife, who was wearing a seatbelt, was taken to CAMC General Hospital. Her condition was not available.  Cpl. Humphreys said sheriff's deputies encourage everyone to wear a seat belt when traveling in a motor vehicle, as required by law.
At West Law Firm, our thoughts and prayers go out to the man and woman, and their families, who recently lost their life in these motor vehicle crashes.
What is the impact of seat belt use?
Motor vehicle crashes are the leading cause of death among those age 5-34 in the U.S. More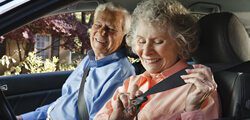 than 2.3 million adult drivers and passengers were treated in hospitals and emergency rooms as the result of being injured in automobile crashes in 2009.  Yet millions of adults do not wear seat belts on every trip.
What are the benefits of seat belt use?
Seat belts reduce serious crash related injuries and deaths by about 50%, according to the National Highway Traffic Safety Administration.
Air bags provide added protection but are not a substitute for seat belts.  Seat belts with the use of air bags provide the greatest protection for adults.
Free Consultation with West Virginia Automobile Accident Lawyer
If you or a loved one was injured or killed in a West Virginia motor vehicle crash, we invite you to call one of our experienced auto accident lawyers for a free and confidential consultation.  Our toll free number is 1-877-943-WEST (1-877-943-9378).  We are located in Charleston, West Virginia and serve clients throughout the state. If you can't come to us, we will come to you.  There is No Fee unless we recover money for you.
Brooks West is a West Virginia personal injury lawyer who helps people who have been injured by negligence or wrongful conduct. He is the President and founder of West Law Firm and has been an attorney since 2005. Brooks is a Multi-Million Dollar Advocates Forum member and has been awarded the AV Preeminent Rating from Martindale-Hubbell.