Texting While Driving Ban in West Virginia Takes Effect July 1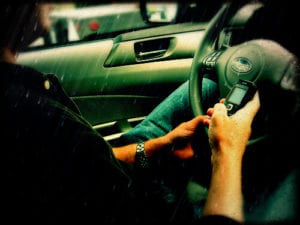 The West Virginia State Legislature passes the bill to ban texting while driving March 10th, becoming the 41st state to do so.
The new law was at first widely believed to take effect June 8th—90 days from passage according to the general provisions for bills passed with no effectivity date included.
However, it was found out the bill specified July 1 in its wording so, while technically, the bill will take effect June 8th Friday, it cannot be legally enforced until July 1st—23 days later (a Wednesday).
Until then, texting while driving remains a secondary offense (except for minors under current laws) until July 1st, when it becomes a primary offense (a driver can then be pulled over just for texting while driving)—allowing more time for people to mentally prepare changing their driving behavior according to the new law.
Hand-held use of cellphones, on the other hand, will remain a secondary offense until a year later, when it also becomes a primary offense July 1, 2013.
This extension in the law's enforcement also gives more time for the Division of Highways to install signs alerting drivers of the anti-texting while driving ban. Currently the highways division is given an additional 90 days from the law's effectivity to install warning signs at West Virginia state boundaries. The highways division is also going to do a public awareness campaign to educate more people on the new law. The warning signs are currently being designed by the traffic engineering division.
This new law was made in answer to increasing percentage of electronic device use while driving, particularly among young drivers. Handheld use of cellphones and texting while driving lead to all three forms of distracted driving (driver takes eyes off the road, driver takes hands off the wheel, and driver takes mind off his driving)—reducing brain activity compared to attentive driving by as much as 37 percent.
Distracted driving is estimated to be involved in around 80 percent of all car accidents and 65 percent of near crashes nationwide. In 2009, nearly 500 West Virginia accidents were said to be due to drivers being distracted by electronic devices.
Those caught in violation of the anti-texting while driving law can be fined up to $100 by a magistrate court—a time consuming procedure for both offenders and state enforcers. This prompted West Virginia cities (Parkersburg City for example) to follow suit in passing similar city laws, which would require people to pay their fine more conveniently at the city court. Said city laws could also take effect July 1st.
Brooks West is a personal injury lawyer, founder, and President of West Law Firm. He has been helping those wrongfully injured in West Virginia for almost two decades. The results and service he provides his clients have earned him membership in the Multi-Million Dollar Advocates Forum and the AV Preeminent Rating from Martindale-Hubbell. Brooks is most proud of the many 5-star reviews he has received from satisfied clients.