Teenager killed in Putnam County, WV Car Wreck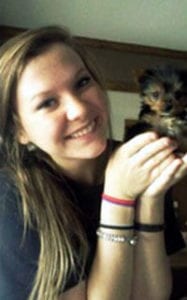 WINFIELD, WV — A teenager died in a single-vehicle car crash on West Virginia Route 34 early Sunday morning.  Karissa Ramsey, 19, of St. Albans, was traveling toward Winfield at about 1:30 a.m. Sunday.  According to a deputy with the Putnam County Sheriff's Department, someone witnessed the crash and said Karissa was killed instantly.
Karissa was studying at Marshall University and worked at Sonic Restaurant in St. Albans, WV.  Karissa has worked at the Sonic restaurant in St. Albans since its opening three years ago, said Angie Gardener, a Sonic employee who had worked with Ramsey for more than a year.  Donations to help cover funeral expenses are being accepted at the restaurant.
An investigating officer said he believed Karissa might have survived if she had been wearing a seatbelt. Please help bring meaning to this tragedy by wearing a seat belt.  Obviously, it can make a difference in whether a person survives an unexpected car accident.
On behalf of our West Virginia personal injury law firm, our deepest condolences go out to Karissa Ramsey and Karissa's family.
Brooks West is a West Virginia personal injury lawyer who helps people who have been injured by negligence or wrongful conduct. He is the President and founder of West Law Firm and has been an attorney since 2005. Brooks is a Multi-Million Dollar Advocates Forum member and has been awarded the AV Preeminent Rating from Martindale-Hubbell.