Zantac Cancer Lawsuits & Settlements
Zantac (Ranitidine): The Popular Heartburn Medication Linked to Cancer
Millions of people take medications, both over the counter and by prescription, to combat heartburn.  However, a very popular heartburn medication that has been on the market for many years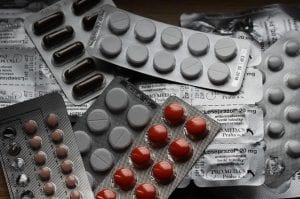 – Zantac – has recently been found to be linked to an increased risk of cancer.  As a consequence, many Zantac users with the help of Zantac lawyers have filed personal injury and class action lawsuits against the manufacturers of the medication.
Below are answers to some of the most frequently asked questions about Zantac and its relationship to cancer.
How Does Zantac Increase Your Risk of Cancer?
On September 13, 2019, the Food and Drug Administration (FDA) found that Zantac and other ranitidine drugs contained low levels of a cancer-causing contaminant, a nitrosamine called N-nitrodimethylamine, or NDMA.  NDMA is a known environmental contaminant found in water and foods, including meats, dairy products, and vegetables.
Exposure to high amounts of NDMA is thought to cause gastric or colorectal cancer.  However, NDMA is also considered to cause other types of cancers including cancer of the bladder, pancreas, liver, and kidney.
In fact, the FDA has been investigating NDMA in certain blood pressure medications over the last year.  And in July 2019, the FDA issued a recall of several blood pressure medications, including Valsartan, due to a concerning amount of NDMA in the drugs.
The information on the link between Zantac and NDMA is unclear on whether it is the presence of NDMA in the Zantac drug itself that is the primary cause for concern, or whether it is the fact that Zantac may break down in the body once digested and form high levels of NDMA in a person's system.  Indeed, it appears that combining Zantac with food that contains high amounts of nitrates, like cured meats, can increase the chance of causing high levels of NDMA in a person's system.
Yet, regardless of the primary source of the cancer-causing risk, Zantac and other ranitidine drugs have been largely taken off of the market because of the presence of NDMA and, thus, the increased risk of cancer.
Has Zantac Been Recalled by the FDA?
Not officially.  Since the FDA first alerted patients and health care professionals of the discovery of NDMA in samples of Zantac and generic ranitidine drugs in September 2019, companies have
voluntarily recalled their ranitidine products.  Among the many recalls, French drug maker Sanofi, the maker of over-the-counter Zantac, announced a recall one month after the FDA's alert.
In addition, several manufacturers of generic ranitidine drugs also recalled their products, and pharmacy chains including Walgreens, CVS, and Walmart pulled Zantac and other ranitidine products from their shelves.
As noted, the FDA has not officially recalled the drug, but it has advised companies to recall their products themselves if testing shows levels of NDMA above the acceptable daily intake, which is 96 nanograms per day.  Worldwide, however, at least 22 countries have either banned, ceased the shipments of, or recalled all ranitidine drug products.  Four other countries are still conducting investigations or have issued warnings in connection with the drug.
What Exactly is Zantac?
Zantac is an extremely popular antacid medication that has been sold since the early 1980s.  As recently as 2018, annual sales of Zantac totaled $128.9 million.  Available both over the counter and by prescription, doctors have recommended Zantac for not only heartburn and acid reflux, but also for many throat, stomach, and gastrointestinal issues, as well as allergy relief in some cases.
The primary component of Zantac is a chemical called ranitidine.  Ranitidine is also sold over the counter and by prescription in generic form. Ranitidine is an H2 (histamine-2) blocker, which decreases the amount of acid created by the stomach.
Some of the common Zantac brands include:
Zantac 75 (75mg ranitidine)
Maximum Strength Zantac 150 (150mg ranitidine)
Maximum Strength Zantac 150 Cool Mint Tablets (150mg ranitidine)
Zantac Lawsuits and Settlements
The State of California was the venue for the first Zantac lawsuit, which was filed shortly after the FDA first issued its September 2019 alert.  The essential argument of that lawsuit, and of the many lawsuits that followed, was that Sanofi and Boehringer Ingelheim (the makers of Zantac) knew for years – but did not disclose to consumers – that Zantac exposes users to extremely high levels of NDMA. And as mentioned above, NDMA is known to be linked to cancer.
Zantac lawyers essentially pose the question in the lawsuits that have been filed:  How could this drug that has been taken by millions, over many decades, be allowed to be sold when scientific evidence existed that linked ranitidine to the production of high levels of NDMA?
The answer to that question, according to the Zantac lawsuits, is that the United States regulatory system relies heavily on the drug manufacturers themselves to do adequate testing and report negative results about their products.  Thus, the Zantac lawsuits allege that Sanofi and Boehringer intentionally concealed the link between Zantac and NDMA by not reporting that link to the FDA.
Who Can File a West Virginia Zantac Lawsuit?
If you used Zantac or its generic form, ranitidine, for an extended period and developed a certain kind of cancer, or if one of your loved ones died from using the drug, you may be entitled to compensation through a lawsuit.  The kind of lawsuit you would file depends upon the circumstances of your case. Also, lawsuits against the manufacturers of Zantac and ranitidine are in the early stages, so it's important to speak with a lawyer about your potential case. You will need a zantac lawyer to help you file your case, and if you suspect you have cancer caused by zantac, we invite you to call us for a Free Case Review at 1-877-943-9378 (WEST).
Below are several types of lawsuits that may be available to you:
Personal Injury Lawsuit.  If you have taken Zantac and were subsequently diagnosed with a form of cancer, then you may be able to file a personal injury lawsuit against the manufacturers of the drug.  A personal injury lawsuit will allow you to receive compensation for your injuries.
Wrongful Death Lawsuit.  If a family member took Zantac and subsequently died from a form of cancer, then you may be able to file a form of personal injury suit, typically called a wrongful death lawsuit.  Such a lawsuit will allow you to be compensated for the loss of your loved one and any medical costs associated with your loved one's use of Zantac.
Class Action Lawsuit.  If you took Zantac, but never developed any injuries – such as a cancer diagnosis – you are still able to file a class action lawsuit against the Zantac manufacturers to recover the money you spent on buying the medication.
What is the Difference Between a Zantac Personal Injury Lawsuit and a Class Action Lawsuit?
A personal injury or wrongful death lawsuit is filed by the individuals (or their families) who developed cancer after taking Zantac.  The lawsuit's aim is to obtain damages for the personal harm they suffered as a result of taking the medication.
By contrast, the goal of a class action lawsuit is to recover the money spent on buying the medication.  Those in the class action don't have to have been injured by the product.  Rather, the harm addressed by the class action is that the Zantac manufacturer was able to make money by unlawfully concealing the dangers of Zantac to consumers.  Thus, class actions seek to rectify the fact that the drug manufacturers failed to warn consumers of a serious known risk.
What Types of Damages Can a Zantac Personal Injury Lawyer Help Me Recover?
Although the laws regarding damages vary from state to state.  Generally speaking, a person diagnosed with cancer due to his or her use of Zantac can claim damages including:
All medical expenses due to injuries from using Zantac;
Rehabilitative services;
Pain and suffering;
Loss of wages;
Loss of earning capacity;
Loss of enjoyment of life; and
Punitive damages (where appropriate)
Get a Free Zantac (Ranitidine) Case Review From a West Virginia Zantac Lawyer
If you suspect that you have been harmed by taking Zantac or its generic form, ranitidine, we invite you to contact us today for a Free Case Review. West Law Firm represent clients in West Virginia and nationwide who have been injured by potentially dangerous drugs like Zantac.
We will represent you on a contingency basis, which means that you will not pay any legal fees unless and until we obtain financial damages for you.  Call us today to schedule a free case evaluation.  We can be reached at 1-877-943-WEST (9378), or you can fill out our online contact form.