Kanawha County School Bus Driver Arrested for DUI after Fiery Crash on I-77: a Lawyer's Perspective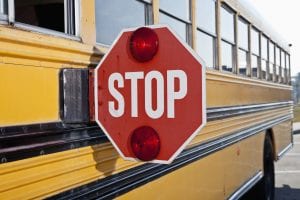 CHARLESTON, WV — Charleston Police arrested and charged a Kanawha County school bus driver with DUI following a four-vehicle crash Thursday, which included the bus she was driving with six children on board. Two of the children were taken to the hospital with non-life threatening injuries, according to emergency responders. The bus was traveling from Sissonville to Capitol High School when the collision occurred on I-77 near Laidley Field.
The bus driver, of Charleston, WV, was arrested and charged with 3 counts of driving under the influence causing bodily injury and one count of driving under the influence with a minor in the vehicle, according to WSAZ reporters.
One of the cars involved in the accident caught fire. The driver was taken to the hospital with non-life threatening injuries.
An Attorney's Perspective
An important part of a lawyer's job is to identify the legal issues in a given case. Below are just a few of the legal issues that are fairly unique to this crash compared to a typical West Virginia auto accident.
Negligent hiring
Negligent Supervision
Insurance
Seatbelts
Punitive Damages
Negligent Hiring/Supervision: Was the Kanawha County School Board negligent in the hiring and ongoing supervision of the school bus driver?
Kanawha County School Board transportation director, Brette Fraley told WSAZ on Thursday that, "The bus driving program is extensive…It takes three to four months to get through it typically. They go through re-certification, they have to take the online test, constant training. It's a good program." Apparently the School Board also requires background checks, fingerprints and random drug testing. However, until more facts are known, it's impossible say whether negligent hiring and/or supervision played a plart in this incident. That said, these are issues that an experienced attorney would likely investigate.
Insurance: What Insurance Policies Will Pay for the Injuries Caused by this Collision?
Based on the facts we have so far, it seems clear that the auto insurance policy covering the school bus will apply. However, based on our legal experience, it's likely that Kanawha County doesn't maintain medical payment coverage. Medical payment coverage pays for medical treatment needed as a result of an automobile accident, regardless of who is at fault.
If Kanawha County failed to maintain this coverage, then the children injured in the crash may be able to get their immediate medical treatment paid for by their parents' or guardians' medical payment coverage on their own automobile policy; that is, if their parents have such coverage on their policy.
Of course, the children's health insurance should cover the initial cost of medical treatment, but health insurance often has high deductibles. Once the claims are settled, the at-fault party's insurance will likely reimburse other insurance carriers, including health insurance providers. However, personal injury claims sometimes take months or longer to resolve. So, medical payment coverage may be important for the families involved.
Seatbelts: Did the Bus Have Seatbelts?
Although some states require school buses to be equipped with seatbelts, West Virginia does not. So, it's not likely the school bus involved in the crash was equipped with seatbelts. That said, whether West Virginia should require seatbelts on school buses is an ongoing topic for discussion.
Punitive Damages — Under West Virginia Law
If an injured party can show the defendant acted with criminal indifference to his or her civil obligations and such actions caused the injured party harm, then the injured party may be able to recover punitive damages above and beyond what's called compensatory damages. This is a complicated area of law with other limitations that's beyond the scope of this article. However, based on what's currently known, it appears that punitive damages should be recoverable in this incident. That said, most insurance policies exclude claims for punitive damages, and it typically requires an experienced attorney to effectively deal with these exclusions.
Free Consultation With a Charleston, West Virginia Auto Accident Lawyer
If you or a loved one has been injured in an accident, we invite you to call us for a Free Consultation. There's also no fee unless we recover compensation for you. Our toll-free number is 1-877-943-9378 (WEST).
Brooks West is a personal injury lawyer, founder, and President of West Law Firm. He has been helping those wrongfully injured in West Virginia for almost two decades. The results and service he provides his clients have earned him membership in the Multi-Million Dollar Advocates Forum and the AV Preeminent Rating from Martindale-Hubbell. Brooks is most proud of the many 5-star reviews he has received from satisfied clients.