38 Vehicle Wreck Spans WV I-64 Bridge
A massive vehicle crash involving close to 40 vehicles spanned the Interstate 64 bridge between St. Albans and Nitro, WV.  It was the worst a West Virginia Department of Transportation official had ever seen in his 40 plus year career.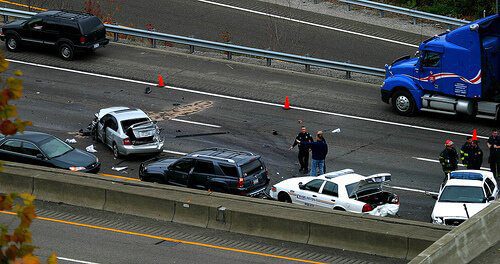 "It's just amazing," Chuck Runyon, said Thursday evening. "I've seen stuff like this in California but never here and I've been involved in this for nearly 43 years."
As of Thursday evening, the cause of the  vehicle accident was unknown, but witnesses say rain and water were on the bridge before it occurred.  However, "A lot of people need to realize that when there's weather — we've had rain and stuff — they need to slow down a little bit," Runyon said. "These trucks, these tractor-trailers and stuff, they really do drive too fast. They didn't cause the accident today but a lot were involved with it."
The crash left a heap of twisted metal strewn all the way across the bridge, according to Kanawha Fire Coordinator C.W. Sigman.  Several people were injured, but fortunately no one was killed.  Sigman said a couple of people had to be cut out of their vehicles, but most of the injuries were not life threatening.  At least nine people were taken to local hospitals, according to the state Department of Transportation.
A KRT bus took the uninjured and the injured people who refused treatment from the scene, dispatchers said.  Firefighters from Nitro, St. Albans, and Teays Valley were at the scene, along with Nitro police and EMS personnel.
Winfield High School had planned its graduation ceremony at the Charleston Municipal Auditorium Thursday evening. Officials had to delay the ceremony and send a bus to the accident scene to pick up at least 12 students who were stranded along the interstate and bring them downtown, said John Robertson, Civic Center general manager. Although the ceremony was delayed, the Winfield seniors were able to celebrate their accomplishment mostly as planned.
Safety Tip from West Virginia accident attorney
Many car accidents are caused by drivers who follow to closely to vehicles in front of them.  West Virginia law prohibits following too closely for a reason.  Often, drivers need to slow or stop their vehicle suddenly due to traffic or other road conditions.  If another driver is following too closely, they won't have enough time to react and a crash is then unavoidable.
So, one of the best things you can do to avoid an accident is to allow enough distance between your vehicle and the vehicle ahead of you so that if it suddenly stops, you have time to stop, too.  If you have already been involved in a West Virginia car accident and would like a free consultation with a West Virginia attorney to discuss your options, call West Law Firm at 304-343-9378.
Brooks West is a West Virginia personal injury lawyer who helps people who have been injured by negligence or wrongful conduct. He is the President and founder of West Law Firm and has been an attorney since 2005. Brooks is a Multi-Million Dollar Advocates Forum member and has been awarded the AV Preeminent Rating from Martindale-Hubbell.